Tech
Best and Worst Baseball Uniforms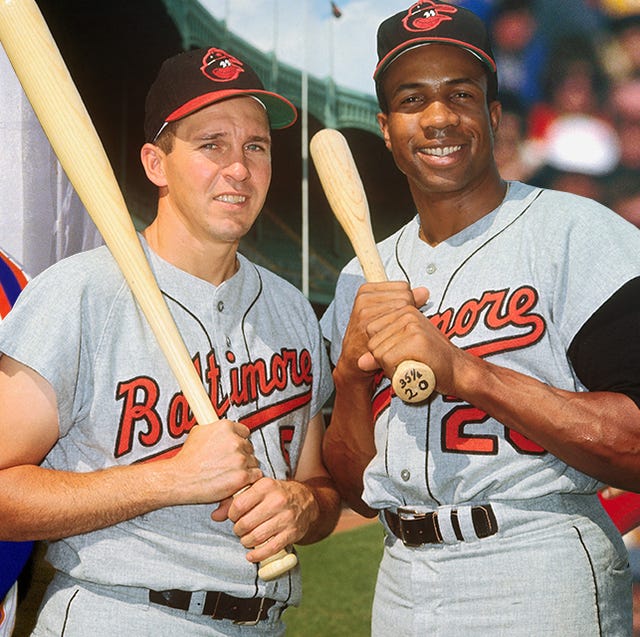 Getty Images
From pinstripes to coach jackets to thermals, the baseball field has had a lasting influence on men's style. And since the early 1900s, the uniforms have innovated, adapted, and moved with times. Of course, that's not always a good thing. Here's a (completely unscientific) look back at baseball style—from the very good to the very questionable.
1 of 40
1903: Chicago White Sox
The White Sox team logo has gone through many iterations, and this 1903 version looks more like a botched horseshoe than anything else. However, the newsboy cap and contrasting collar are enough to save this look from disaster.
Verdict: Questionable
2 of 40
1908: Boston Red Sox
The short-brimmed hat is a divisive style move, and the extra layer under the jersey just seems hot.
Verdict: Questionable
3 of 40
1914: Philadelphia Athletics
A simple monochrome palette keeps this look understated. Even the old Athletics logo works well here.
Verdict: Good
4 of 40
1917: Chicago White Sox
Super confused by the turtleneck and the long sleeves and also the Sox logo.
Verdict: Bad
5 of 40
1921: Cleveland Indians
It doesn't get any more classic '20s baseball than baggy pants and an old-timey font.
Verdict: Good
6 of 40
1927: St. Louis Cardinals
I'm wearing these socks right now.
Verdict: Good
7 of 40
1934: Boston Braves
When your team logo looks like it says "Bra Yes" you know there's an issue.
Verdict: Bad
8 of 40
1940s: Brooklyn Dodgers
The Brooklyn Dodgers are everything that is good about nostalgia, especially the hats.
Verdict: Good
9 of 40
1944: Brooklyn Dodgers
See? Everything good. Including this silky light blue uniform.
Verdict: Good
10 of 40
1952: New York Yankees
The pleated pants and clean pinstripes give this uniform a streamlined, timeless appeal. Bonus points for rocking a belt on the field to tie the look together.
Verdict: Good
11 of 40
1953: Boston Red Sox
Smart piping, structured sleeves, and on-point logo placement make this a winning look.
Verdict: Good
12 of 40
1958: Milwaukee Braves
The juvenile patchwork mascot and the misplaced logo that clashes with the red stripes are not the best details you want on your uniform.
Verdict: Bad
13 of 40
1963: Pittsburgh Pirates
More teams should use layering-friendly vests, especially when paired with thermals.
Verdict: Good
14 of 40
1966: Baltimore Orioles
Unsure why the sleeves are so awkward but it's a good, clean-cut take on the uniform.
Verdict: Good
15 of 40
1969: Seattle Pilots
The Seattle Pilots didn't last very long and, thankfully, neither did their uniforms.
Verdict: Bad
16 of 40
1970: California Angels
The contrasting side stripe and matching waistband add a sartorial flair to an otherwise standard getup.
Verdict: Good
17 of 40
1971: Baltimore Orioles
Here's how to make light blue work. The contrasting waistband makes all the difference.
Verdict: Good
18 of 40
1972: Oakland Athletics
The number and the letter is way too much for the front of the shirt, but the socks, side stripe pants, and killer striped sleeves make up for it.
Verdict: Good, bonus mustache
19 of 40
1975: Cleveland Indians
Pairing a red shirt with white pants is a good, good move.
Verdict: Good
20 of 40
1976: Chicago White Sox
A collared shirt and shorts seem out of place on a mound, but they're great for that very reason.
Verdict: Good
21 of 40
1977: Philadelphia Phillies
This shade of blue works much better in subtle pops—not head to toe.
Verdict: Bad
22 of 40
1978: Houston Astros
This is, hands down, the best baseball uniform of all time. You killed it, Astros. You killed it.
Verdict: Best
23 of 40
1982: St. Louis Cardinals
Now this is how you do head-to-toe blue. It's a little darker of a shade, and is broken up nicely by other colors. Plus, damn Keith Hernandez! Coming in hot with the facial hair.
Verdict: Good
24 of 40
1983: Baltimore Orioles
All white with pops of orange is very '80s baseball. We miss it.
Verdict: Good
25 of 40
1983: Chicago White Sox
Kind of looks like a project you'd make with WordArt in school.
Verdict: Elementary
26 of 40
1984: New York Mets
Bright, saturated colors can easily miss the mark, but this teal, red, and white combo hits all the right notes thanks to how well the design uses scale and proportion to balance everything out.
Verdict: Good
27 of 40
1986: New York Mets
We're still mourning the loss of Shea stadium and the artistic pinstripe unis that came with it.
Verdict: Good
28 of 40
1988: Chicago White Sox
The all-white uniform is made even better by cool socks. Although the number on the pant leg and the hat can both take a hike.
Verdict: Still Good
29 of 40
1989: Pittsburgh Pirates
The color scheme works very well here thanks to navy and yellow trimming on the sleeves and the V-neck collar.
Verdict: Good
30 of 40
1989: Kansas City Royals
All-over periwinkle blue, plus a navy blue hat, is how you should do monochromatic dressing on the field.
Verdict: Good
Advertisement – Continue Reading Below
This content is created and maintained by a third party, and imported onto this page to help users provide their email addresses. You may be able to find more information about this and similar content at piano.io