Beauty
Leather Basket Bags Make The Trendy Woven Look Practical And Timeless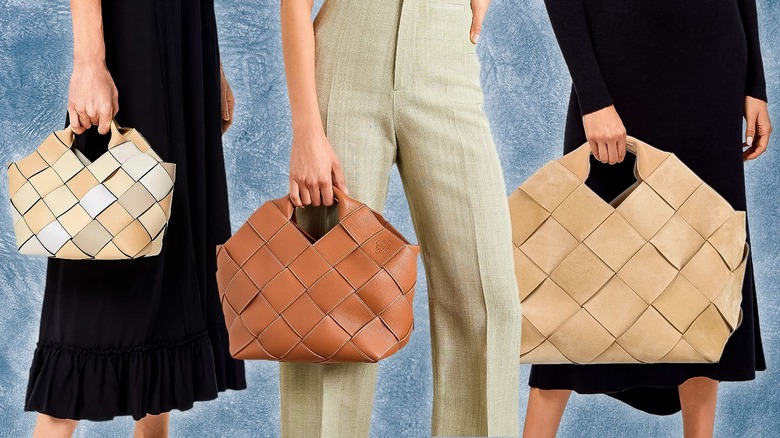 Edward Berthelot/Getty Images
With so many handbag trends heading our way for the fall, it can be overwhelming for those looking to stick with timeless styles. As we've seen with other bag fads, sometimes the latest stylish handbag is not as practical as it is chic. Although many appreciate the unique twist these handbags provide to our looks, they don't always meet our standards for what we need in a bag. Thankfully, playing with the texture and pattern of your handbag can help elevate it without sacrificing its practicality. 
The newest leather basket bags are all about quiet luxury. They don't typically include logos or branding, but they are still stylish. Because the woven detail of these bags is tied to a certain fashion house, it's an undeniably chic trend that elevates all of your looks. If you're searching for an option that combines practicality, style, and minimalism, then you need not look any further than a leather basket bag.
Woven satchels
Han Myung-gu/Getty Images
Micro purses are often impractical for our daily requirements. To truly get the most out of our handbags, they need to be both stylish and large enough to carry everything we need. However, large bags often sacrifice style for space. Fortunately, the leather basket trend offers a solution: timeless and resourceful bags that won't compromise your overall look for the sake of space.
Leather basket clutch
Edward Berthelot/Getty Images
Clutches are more than just the perfect accessory for date night. They can embody the woven trend with ease and chicness, making them your new favorite daily bag. While clutch bags often go unnoticed as they are primarily used for carrying essentials at parties or important events, adding a woven texture gives them eye-catching dimension and sophistication.
Braided bucket bags
Christian Vierig/Getty Images
If there's one handbag trend that has made several comebacks in recent seasons, it's the bucket bag. The unusual shape of these purses adds an interesting twist that complements any outfit. While canvas and plain leather bucket bags have made quite a statement in the past, the new trend is woven bucket bags. Combining these two visually interesting factors into one bag is sure to make your new accessory piece stand out.
Crisscross totes
Edward Berthelot/Getty Images
Totes have become a permanent fixture in our wardrobes. With tote bags, you can get practicality and style all in one. Adding a leather basket detail to your tote turns this already useful accessory into a stylish component of your overall look. Although totes still have a certain professional vibe to them, adding an interesting woven detail elevates them without compromising space.
Intertwined basket handbags
Jeremy Moeller/Getty Images
The impact of a Bottega Veneta bag is unmatched when it comes to creating this fashion trend. The classic Bottega Veneta handbag with basket weaving introduced us to this pattern, and it remains a timeless option. Not only does a woven handbag remind everyone of the iconic piece from the brand, but it also adds an extra touch of modernity and sophistication to your look. Whether you're carrying the Bottega Veneta bag itself or an alternative option, this look is as classic as they come.