Tech
The 10 Best Car Covers in 2022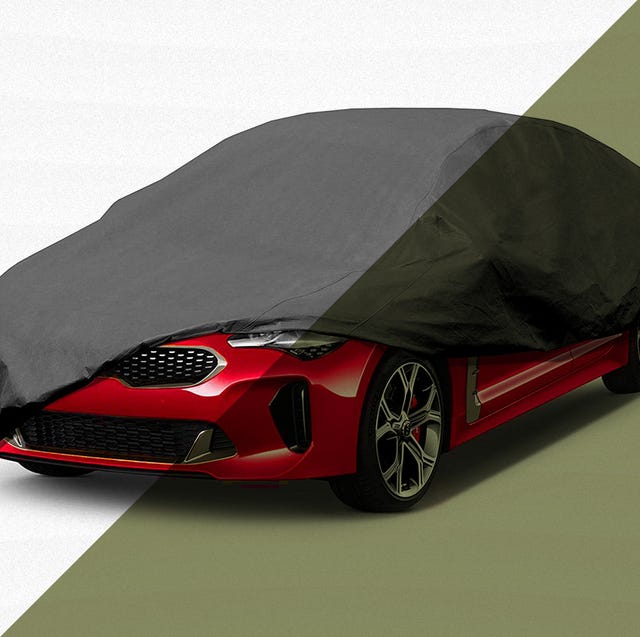 Staff, Courtesy of Leader Accessories
We all love to keep our cars in nice condition—especially after a new purchase—but doing so can be difficult. Threats to your vehicle's condition exist all around in nature. Ultraviolet rays beat down from the sun and acid rain breaks down a paint's clear coat over months and years. Windswept sand leaves microscopic scratches and swirls on every body panel. And animal droppings do lasting damage if not washed away in time.
These annoyances can be mitigated, however, if you use a car cover, either outdoors or in a garage (or both). The cover acts as a protective barrier and luckily most are relatively inexpensive, priced at well under $100. Read on for our top recommendations, plus shopping advice and tips.
Best Car Covers
What to Consider
There are a few basics you'll want to nail down before you start shopping, ranging from a car cover's size and material to how it attaches to your car. There are also different styles to consider.
Size
The first factor to purchasing a car cover should be size. Aftermarket covers generally come in "universal" sizes made to fit a range of smaller or larger vehicle segments. Automakers often offer bespoke, snug-fitting covers as a dealer option for your particular vehicle, but those come with a loftier price tag.
Material
Material composition is also important. Most car covers will utilize an outer defensive layer of hard synthetic fabric, and an inner soft cotton layer to be gentle on paint, with a varying amount of layers between those two adding additional protection. Simple covers are available using only a single layer of synthetic or cotton fabric. They're a suitable option for short-term storage in a garage, but not ideal for long-term preservation. Also, keep in mind that car cover offer varying degrees of water resistant, but most aren't completely waterproof.
Attachment
Cloth covers are fixed to the car using either string tie-downs, or elastic. The elastic option can be more convenient for application and removal, but it's also more liable to slip or fall off if left in windy conditions. If your vehicle has a radio antenna that sticks out from the body, you may also want to find a cover with a hole placed to accommodate it. Some specialty covers are also comprised of a single plastic sheet, which doesn't contact the car, but creates a vacuum-sealed bubble against dirt. This bubble type is mostly used by die-hard car collectors to meticulously preserve decades-old machines.
Installation
Before installing a car cover, it's important to make sure your vehicle has already been washed. Any contaminants left on the surface of the paint will become trapped underneath the car cover, and can lead to scratches where the cotton contacts each body panel.
How We Selected
The car covers featured below were selected based on a combination of personal auto maintenance experience, and review data from publications like Forbes Wheels and The Drive. Our selection includes universal fit aftermarket options (as opposed to custom) to suit a wide variety of consumer needs and vehicle makes and models. Also, all of the car covers we write about have an average customer rating of 4 stars or more.
Looking for more car accessories? Check out our coverage of the best car seat covers and the best car sun shades.
Advertisement – Continue Reading Below
1
Best Overall
10-Layer Car Cover
10 layers of protection
Locking option
Side mirror pockets
Storage bag
Key Specs
Exterior Material: Polyethylene
Layers: 10
Cotton Lining: Yes
Options: 15 sizes; 1 color
The EzyShade cover uses ten layers of material for additional durability and protection from rock chips or hail, with the UV and weather protection you'd want, along with the soft cotton lining. The second inner-most layer is also composed of an adhesive film to help the product maintain its shape over long-term use. The outer material is shiny silver, along with highly visible orange reflector stripes.
This cover also gives you plenty of other options, including security straps, mirror pockets, zipper door access, and a storage bag. There is an additional grommet along the layers to allow radio antenna pass-through, plus another for the installation of an optional padlock.
Sizes range from small coupes to large SUVs, and the manufacturer includes a handy size chart on the store page to find the right option for you. However, it hasn't published exact dimensions for each size.
2
Budget Buy
Lite Car Cover
Affordable
Elastic and tie-down application
Eight sizes
Single-layer fabric not water-resistant
Key Specs
Exterior Material: Polypropylene
Layers: 1
Cotton Lining: No
Options: 8 sizes; 1 color
This simple one-ply car cover comes in a bevy of sizes to fit mid-size sedans, large SUVS, and many in between. For the cheap price, you get a single polypropylene layer. It's enough to shield against some UV, and many outdoor contaminants, but anything more than a sprinkle of rain will probably overwhelm the thin material.
For those who want to keep their paint showroom quality, you'll at least want to spring a little extra for a cotton inner layer. The cover is fixed to the car using a large elastic band around the bottom, with some integrated metal rings that can be used to tie it down tighter. It also comes with its own storage bag.
3
Best Upgrade
Premium Car Cover
Affordable
Water-resistant
Windproof straps
Key Specs
Exterior Material: Polypropylene
Layers: 5
Cotton Lining: No
Options: 3 sizes (per car type); 3 colors
While still remaining affordable, this cover comes with three layers polypropylene, one layer of waterproof polyethylene film, and one layer of UV protection. This basically means you can leave it out, rain or shine, without worry. Fabric straps are also included that hug the underside of the vehicle, so moderate winds won't be taking this cover away.
Three sizes in each car type (hatchback, sedan, SUV, etc) are available: 185, 200, and 228 inches long. We do wish that it included a cotton inner layer for a gentler touch.
4
Premium Pick
Favoto Five-Layer Car Cover
Cotton Layer
High visibility
Elastic and strap attachment
Key Specs
Exterior Material: Oxford fabric
Layers: 5
Cotton Lining: Yes
Options: 7 sizes; 2 colors
The Favoto cover incorporates many useful features, such as four layers of durable oxford cloth, one soft cotton layer, side mirror compartments, and green reflective stripes for added visibility at night.
A zipper opening on the driver's side of the cover allows the vehicle to be accessed without removing the entire product. It provides coverage against UV, rain, and snow, securing to the vehicle using elastic and four included straps.
Six sizes are available, accommodating everything from small hatchbacks to big SUVS. A matching storage bag is also included
5
Reflective
Kayme Six-layer Cover
Heat-resistant reflective surface
Multitude of sizes
Side mirror protection
Storage bag included
Key Specs
Exterior Material:
Layers: 6
Cotton Lining: Yes
Options: 13 sizes; 2 colors
This car cover utilizes two shiny aluminum outer layers, which reflects both UV rays and heat away from the vehicle. Underneath is a waterproof synthetic layer and three cotton layers for softness.
Other features are much the same as the Favoto, with orange visibility markers, mirror pockets, driver door zipper, and an elastic and strap combo. A wide array of 13 sizes are available, with each including a storage bag.
6
Sleek Design
All-Weather Car Cover
Classy design
Built-in reflectors
Zipper door access
Storage bag
Black fabric may reduce visibility
Key Specs
Exterior Material: Polyester
Layers: 6
Cotton Lining: Yes
Options: 8 sizes; 2 colors
The Coverado All Weather combines waterproof layers with a heat-resistant aluminum film, and fleece lining. Its jet-black outer fabric gives a professional look, but may reduce nighttime visibility if you park in a public space compared to lighter-color covers. Integrated silver reflectors do however help maintain safety.
Five underside straps make this car cover highly secure under even severe weather conditions. Zipper access and storage bag are also included, with eight size options to choose from. Minimum 160 and maximum 215 inches long.
7
For Extreme Weather
Car Cover System
Unmatched storm protection
Built-in pump
Comes with hail alert app
Key Specs
Exterior Material: Polyester
Layers: N/A
Cotton Lining: No
Options: 6 sizes; 1 color
While other covers are designed for general purposes, The Hail Protector is created specifically for harsh storms. Hailstones present a great menace to our cars. The largest stones impact with great velocity, leaving dents in bodywork, and potentially even cracking windows. This unique cover defends against hail by combining a rigid metal skeleton with inflatable synthetic fabric. Your car will look like it's wearing a puffer jacket.
The cover reportedly takes about 20 minutes to assemble, and another 5-8 minutes to fully inflate. Customers note that the components are fairly heavy, and assembly is made easier with a partner. Air is supplied by a built-in pump motor, running on household power, a car's accessory outlet, or AA batteries in a pinch.
Once prepared, it will guard the vehicle against hail, heavy rain, 60 mile per hour winds, plus UV and dirt. It even comes with a downloadable app to alert you to hail storm warnings.
This level of protection comes at quite a cost, but if you live in an area with heavy storms, it could easily pay for itself by averting a bill at the body shop. Six sizes are available, from 175 inches up 270 inches long.
Quick and easy installation
ATV size option
Key Specs
Exterior Material: Oxford fabric
Layers: Not listed
Cotton Lining: Not listed
Options: 5 sizes; 1 color
This product comes with less of a footprint than typical car covers, but consequently offers less area of coverage. The vehicle's bumpers, hood, roof, and windows remain protected, so it should still block a good amount of UV and heat coming in from above. Still, the doors and quarter-panels remain unshielded from contaminants.
This particular cover is most suited for those who want quick installation and removal in short-term parking situations. Four included bungee straps can be used to fix the product each of a vehicle's wheel wells.
Five sizes are available to fit hatchbacks, sedans, SUVs, and trucks. There's also an extra-small option for side by side ATVs, which we haven't found with any other product.
9
For Campers
SkyShield Trailer Cover
Large trailer coverage
4-year limited warranty
Storage bag included
Zipper access
Key Specs
Exterior Material: Polyethylene
Layers: 3
Cotton Lining: No
Options: 10 sizes; 1 color
In addition to protecting your main vehicle, you may want to invest in a cover for a camper or covered trailer. This SkyShield product is larger than a typical car cover, with length up to 40 feet. It uses triple layers of polyethylene synthetic for UV and elemental protection, along with soft polyester on the inside.
An elastic lining along the edge of the cover also grips the underside of the trailer and helps to maintain a snug fit. Zipper access will let you get into the camper without completely removing the cover. A bag is included for easy storage once you hit the road, and the manufacturer offers a four-year limited warranty with purchase.
10
Windproof
Weighted Car Cover
Weighted frame
Extreme weather and pest protection
One-year warranty
Expensive
Heavy
Limited size options
Key Specs
Exterior Material: Polyester
Layers: Not listed
Cotton Lining: Not listed
Options: 3 sizes; 1 color
This unique car cover uses a thick synthetic apron, along with sand-filled tubes along its rim. The weighted frame allows the cover to stay flush with ground, preventing it from getting picked up in heavy winds while also making it more difficult for pests like rats to get into the vehicle. They also make the product weigh over 40 pounds, which may be more unwieldy when it comes to removal and storage.
CoverSeal offers three size options, but they all have the same 189-inch length. The variation is only in width and roof height, but the semi-rigid construction of the cover should allow some slack when installing on smaller vehicles. A one-year limited warranty is also included with purchase.
This content is created and maintained by a third party, and imported onto this page to help users provide their email addresses. You may be able to find more information about this and similar content at piano.io
Advertisement – Continue Reading Below